Monk's Lane is a vibrant new food and wine destination run by couple Michelle O' Mahony and Gavin Moore. Located in the heart of the beautiful sleepy village of Timoleague on the Wild Atlantic way in the shadow of an historic abbey they focus on serving the best of fresh, local, artisan produce, craft beers, gourmet coffees/teas and fantastic old world wines.
www.monkslane.ie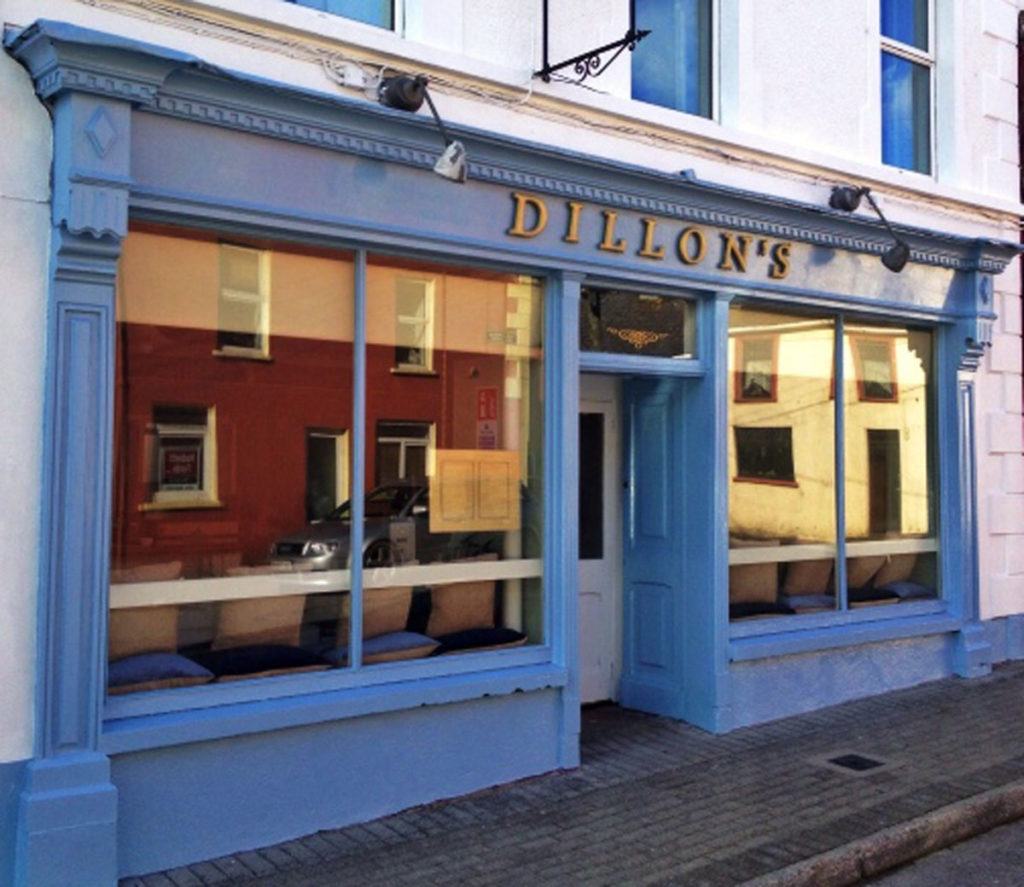 Dillon's
A small café/restaurant in Timoleague West Cork serving carefully prepared locally sourced ingredients in a casual setting.
A small menu which changes regularly.
www.dillonsrestaurant.ie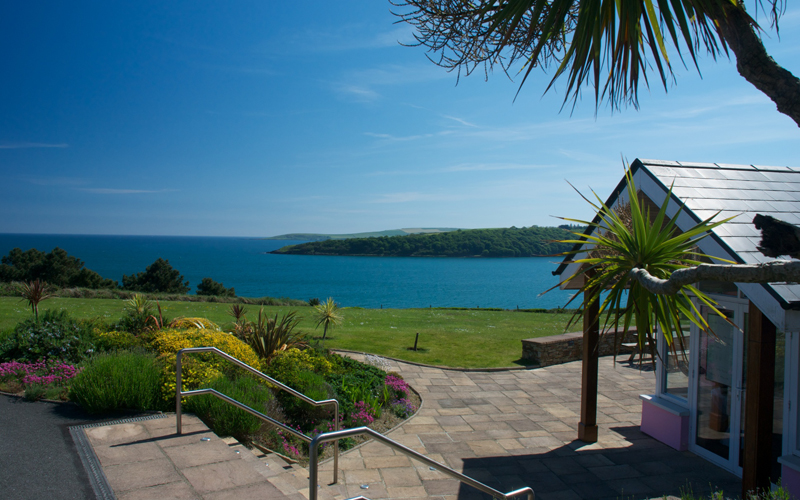 Welcome to The Pink Elephant Restaurant & Bar.
Restaurant & bar by the West Cork coast close to Kinsale, on the beautiful Wild Atlantic Way. Superb cuisine, specialising in wonderful West Cork local meats and seafood. Magical Atlantic views over Courtmacsherry Bay. Patio for outside dining, extensive lawns and private parking. You are guaranteed a warm welcome, delicious dining and superb scenery at The Pink Elephant.
http://pinkelephant.ie/
The Lifeboat Inn – Courtmacsherry
The Lifeboat Inn offers evening meals every weekend all year round. In July & August a full lunch menu & evening meals is available 7 days a week. Call (+353)  (0)23 886 9053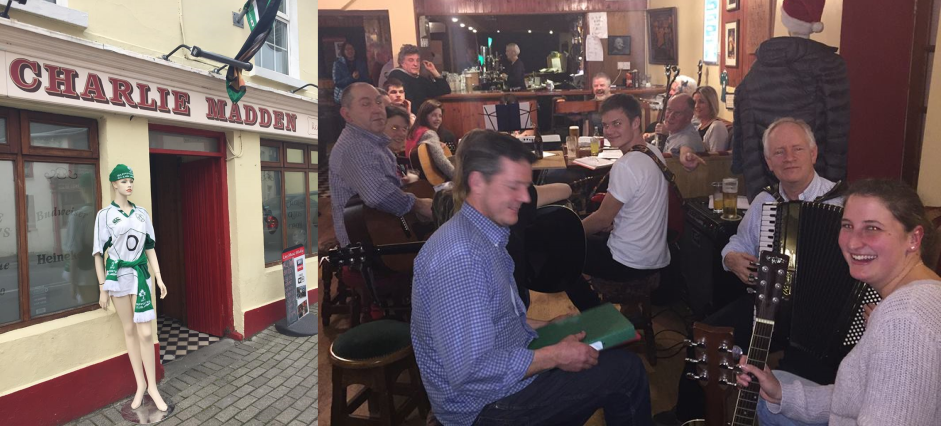 Charlie Madden's – Timoleague
If you like a good pint, a good story, local information or a cosy atmosphere then Charlie Maddens is a must for you.
We invite bus crowds or day trippers to visit and sample the atmosphere and friendliness of country life. So if you are visiting Clonakilty or heading to Kinsale, take a spin to Timoleague and you won't be disappointed.
We have traditional Music every Thursday and Saturday nights.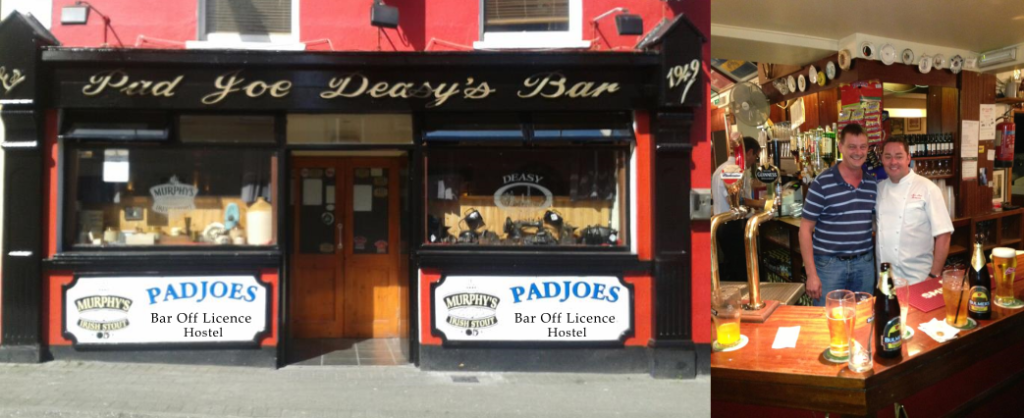 Pad Joe Deasy's Bar – Timoleague
Friendly bar with great craic and the warmest open fire in Ireland!
Meet the staff…Televised sports, pool table, darts and pizzas available all day. Well worth a visit and a great opportunity to meet the locals.
https://www.facebook.com/padjoestimoleague.bar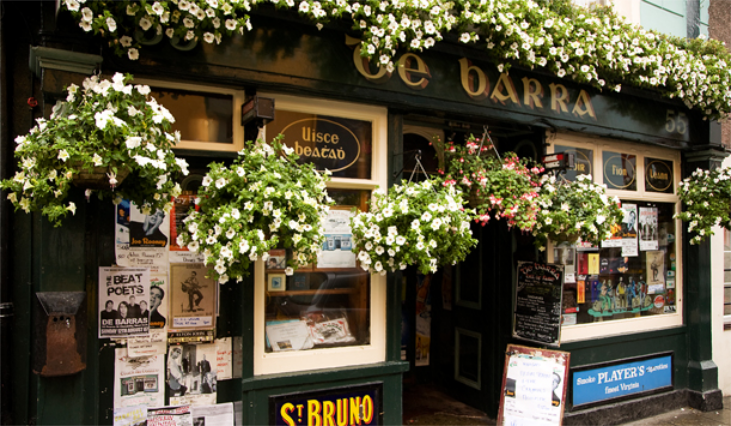 de barra – Clonakilty
A Mecca for musicians and music lovers alike. This well known pub and music venue is in the centre of Clonakilty. Live music most nights on the Wild Atlantic Way.
Whale and Dolphin watching on the southwest coast.
West Cork has become a big attraction for whale and dolphin watchers who come from all over the world. Ireland's coastal waters have been a whale and dolphin sanctuary since the early '90s and is the first sanctuary of this nature in Europe. Its southwest waters are a summer feeding ground for whales and an all year habitat for many species of dolphin including Baleen whales, Fin, Minke and Humpbacks. To date there are 24 different species of whale and dolphin which have been recorded in Irish waters with several resident species of dolphin, the Harbour Porpoise and the Basking Shark.
Sea Angling.
The nearby village of Courtmacsherry has some of the best sea angling in Ireland with record bass specimens, large pollack, conger eel, sea bream, rays, cod, flounder, the list goes on and on. No wonder then that it boasts a Sea Angling Centre on its pier with self-drive boats, boat trips, shark fishing, wreck fishing, visits to the Lusitania and trips around its scenic coasts. It has a good stock of fishing tackle also on Courtmacsherry pier.
Mob:086 825 0905       Courtmacsherry Angling.ie
River fishing and fly-fishing.
The local Argideen river is well known for its salmon and sea trout runs providing beautiful
scenery, wildlife an
d walks. Day fishing and night fishing are both allowed on the river. Spinners and worms work well in the day and fly-fishing is very good at night. Permits can be obtained from either Argideen Fishing Lodges, Ummera Smoked Products or from the Argideen fishing-club hut, all of which are found on or close to  Inchybridge, Timoleague.
Walking
Seven Heads Walk including the Lusitania trail is a 42km circular walk with several trail options to choose from.
You can found out more at  www.sevenheadspeninsular.ie
Woods Point is an ancient bluebell woods at the end of Courtmacsherry which comes out after 1km onto the coastal view of Courtmacsherry Bay and leads towards the small beaches of Broadstrand and  Blindstrand.
Beaches.
There are several local beaches on the Wild Atlantic Way such as Harbour View Beach and Coolmain Beach which are often used for horse riding, fishing and walks.
Golf.
Lisselan Estate, Golf & Gardens in nearby Ballinascarthy has a 9-hole golf course in a picturesque setting. It even boasts its own tram to help get around the course.  www.lisselan.com
The Wild Atlantic Way's final destination is at The Old Head of Kinsale and is home to a World-Class Golf Course attracting the some of the best golfers in Ireland and internationally.  www.oldhead.com
Other places of interest.
Smuggler's Cove – Rosscarbery Golf & Adventure Centre. Fun for all the family.    smugglerscove.ie
Night Kayaking on Lough Hyne – See the lough light up with illuminous plankton. It's true!
 West Cork Model Railway Village – Clonakilty. More family fun with handmade model villages to see and the Choo Choo Train Tour of Clonakilty town.